A wonderful group of Aussie Bloggers recently established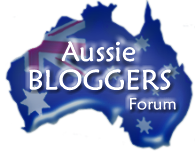 This has become a very active forum, yesterday I noticed 1000 feeds in my reader! There are some very passionate bloggers on this forum.
So what is Aussie Bloggers forum about:
At Aussie Bloggers, we are passionate about blogging and helping other Aussies do the same. But you don't have to be an Aussie to join the forums, all nationalities are welcome here. If you are interested in blogging at all then join us in the forums today. Unlike other forums out there on the web, questions are welcome and you will find lots of friendly Aussies willing to help. Helping out mates is part of the Aussie way, after all.

One aim we have for this forum is to gather a range of Aussie bloggers who have skills over different blogging platforms and social media sites to help provide information and advice to other Aussies who are not as experienced. Let's face it, the blogosphere is a really big place! We've enjoyed connecting with other Aussie bloggers and the friendships we've formed.
You can join the forum here.
Last Monday saw the launch of a new Aussie Bloggers blog site. Visit to see photos there for Australia Day.
And a few local celebrations on the river and at the beach